This is a home, not an institution; and the home belongs to our residents. We will always go out of our way to make them as comfortable as possible. Once they personalize their room with familiar items and join their roommates for a family feast in the dining room, they get a sense of belonging to a real home.
We try to encourage the residents to help themselves to snacks and beverages, unless they are unable to do so in accordance with their care plan (health)... or if it ruins their appetite for our home cooked meals. How many facilities or nursing homes allow you to raid the fridge for a snack? In our opinion, this promotes independence and overall enjoyment of their living situation. Of course we are always more than willing to assist them at the push of a call button when need be.
Please keep in mind that the list of services below is just an example of what we offer, but there really isn't anything we wouldn't do for our residents. Helping them fix their watch, mail a package, assistance with reaching a loved one, and so on.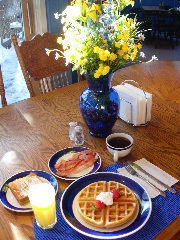 Here are just a few of the daily services that we provide:
Three meals a day, plus snacks anytime they want
Housekeeping
Laundry service and bed changes
Utilities & phone (execpt long distance)
Cable television
Making appointments (physicians, hair stylists, etc.)
See our Specialized Care Page for more services
See our Activities Page for some fun stuff